FLASH DEVELOPMENT AND ANIMATION SERVICES
Flash Development and Animation is all about creating stunning eye-catching and innovative presentations that get noticed by the visitors in just one sight. Fierce online competition has made it important to stand out with extraordinary Internet promotional techniques that grab viewers effortlessly.
Being a prominent multimedia tool and an aspect of Macromedia, Flash offers infinite opportunities for creativity and facilitates development of tremendous interactive software.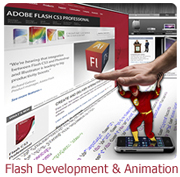 Flash Application and Games Development
Be the most conspicuous one with Creative Flash Development
Today, Macromedia Flash has secured its space as an incredibly influential technology that makes website extraordinarily remarkable and customer centric. Smart use of Flash design has completely surpassed the magic of other conventional mediums. With affluent presentation of concepts through graphics, the power of Flash has presented a flexible podium to create long lasting impact on the visitors. For our valuable customers, we have created a range of advanced applications using with FlashMX, Flash Communication Server to harness the significant potential of Flash.
Flash 2D Animation & Computer based Tutorial(CBT)
Leading edge 2D Animation Solutions for Coeval Businesses
Flash is a powerful tool for Animated Multimedia. Largely accepted technology, Flash Animation has given the power of creating completely interactive real-time presentations on the Web. BrainPulse Technologies has qualitative experience in creating winning edge products varying from simple Flash Websites, Banners, Intro pages and animation presentations to whole urbane Flash web site designing services. Our striking use of colors in flash animated designs are attractive enough to earn great recognition as it conveys a positive impact on visitor's mind by dramatic visual effects influencing them to visit your website again and again and become your frequent customer.
Technical Expertise @ Flash Development and Animation
BrainPulse Flash developer and animator teams expertise spans through today's widely used internet technologies, meeting the ever-growing needs of clients and their businesses. Our main competencies range from Comunication server, Adobe AIR , Adobe Flex.