Link Building Process
At BrainPulse we follow an extensive link building process to ensure that our clients get the best. Link building is a intrinsic part of any SEO Campaign, and so its important that the links that are delivered to our clients are good and aid them in their ranking process.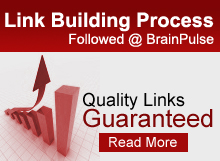 How link Building Process Works?
Based on your requirement, we dedicate a team to conduct extensive research on the Net to identify relevant Affinity Sites.
We can then contact them on a one-to-one basis and establish a dialogue. This inevitably leads to certain specific types of marketing arrangements that vary depending on the partner.
After the links are established our quality assurance systems checks a link against various attributes to see the quality of the links.
All this is done to aid reciprocal link building – a sustained campaign over a period of a few months that also pays off in terms of enhanced search engine performance.
The more inbound links a company establishes on other sites, the more qualified visitors the site attracts.
Quality Assurance Parameters for link building
The following parameters are check for all the link that are achieved by our link building team to ensure link quality and effectiveness
Theme relevancy of the page
Google PageRank of website and page
Indexing status of the URL
Outgoing links from the page
Anchor text analysis