Iphone Application Development
Created and marketed by Apple Inc, Iphone is a multi-functional internet connected device with mailing, web browsing and Wi-Fi connectivity features. The best thing about iphone application is that a number of applications can be created for it and with technology changing at a rapid pace there will always be a great demand for better and newer iphone applications. Getting a website developed for iphone device enhances both the application and the functionalities.
Brainpulse has built competency over years on iphone applications and has a strong client base all over the world. We provide you with all the latest technologies needed to develop an iphone version of your website. Our team of developers has the expertise to make an extensive implementation of CSS transformations so that the animations are as smooth as possible. We create customized applications with the help of the iphone SDK (Software Development Kit) that can be used by both Windows and Linux developers to create and install the applications on the iphone.
Our Application Category Includes
Multimedia Application
Business / Office Application
Internet Application
Games
Fun Application
Utility Application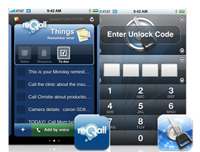 It is because of the immense popularity of iphone applications among the gadget lovers, that website developing companies are encouraged to create distinct applications and develop iphone compatible websites. With our top notch services, we offer our clients exclusive iphone applications and website designs that are perfect on the devices and also ensure that the content of the website is accessible via the iphone.